A little bit about me....
I am a Licensed Professional Counselor and maintain a private practice in Meadville, Pennsylvania. I currently offer individual therapy both in-person and via telehealth.
I have several years experience working in various mental health and therapeutic settings giving me a widened and appreciative view of the unique needs of various individuals seeking help. Beginning in the special education classroom, I began to see the negative impacts of unaddressed mental, emotional, and physical pains and family life stressors on student learning which compelled me to pursue a career in therapy. Along the way, I spent time working in both acute and inpatient units at a psychiatric hospital dedicated to children, teens, and adults struggling with mental illness. I continued on to work with adults struggling with serious mental illness and trauma in a residential therapeutic farm community. Additionally, I worked in an intensive outpatient drug and alcohol setting where I, first, spent time working with psychoeducation and therapy groups and, later, solely working with individual and couples with mental health and relationship concerns.
I am currently a private practitioner working with a broad spectrum of clients. Among my areas of expertise are anxiety disorders, mood disorders (depression and bipolar), PTSD and trauma, dissociative disorders, child abuse, sexual abuse, anger management, stress management, and communication effectiveness.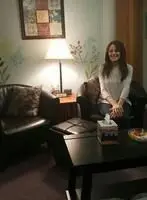 I am an eclectic therapist but do prefer and appreciate the helpful and healing nature and modality of EMDR. My therapeutic approach is to provide support, compassion, and helpful insights and tools to help clients effectively address their personal life challenges. Along the way, I strive to educate and integrate additional complementary methodologies and techniques, to include CBT, DBT, and Mindfulness practices, in order to offer a personalized approach tailored to each client. I also seek to offer compassion and ask exploratory questions that can offer both of us a deeper understanding of the roots of the current challenges.
Last, I aim to help each individual recognize and build on their inherent strengths and self-worth to achieve their desired goals and personal growth.
Services are offered for children (9 -12), adolescents, and adults in need.
Education
Grand Canyon University, Master of Science in Professional Counseling, 2010
University of Maryland University College, Bachelor of Science in Psychology, 2002
License, Certifications & Awards
Pennsylvania State License in Professional Counseling, PC007048
Certified Clinical Trauma Professional (CCTP), International Association of Trauma Professionals
EMDR Certified Therapist (EMDRIA)